E-commerce has completely changed how we shop. But the problem is that e-commerces face a big problem. High return rate. Reducing return rates is a problem that requires your attention. For this reason, you are here today.
How can you solve this problem? In this article, we will see the causes and what you can do to solve this issue.
Let's start with the problems that you are facing.
The problems with high return rates in your e-commerce
1. Uncertainty about product appearance
Before making a purchase, customers frequently find it challenging to comprehend how a thing will look. High return rates due to this uncertainty may be expensive for your e-commerce.
2. Lack of product information
Not enough information on your products? Customers often struggle to understand a product's features and specifications from the description. And, also if they buy the item, this can increase the risk of returns because of the inaccuracy.
3. High return rates due to incorrect sizing or fit
Sizing and fit are often significant sources of returns for e-commerce businesses. Customers often struggle to determine the correct size or fit of a product, leading to a high rate of returns.
4. Lack of trust and brand loyalty
Building trust and brand loyalty is a key challenge for e-commerce businesses. Customers often struggle to connect with a brand or feel confident about their purchases when shopping online.
5. Inadequate product images
Inadequate product images can lead to confusion and frustration for customers. Poor-quality images can make it difficult for customers to understand the color and how the product will be in reality.
As a result, All these problems lead to high return rates for your e-commerce. The best way to solve this issue is by using Augmented Reality (AR) technology. A powerful tool that can increase your sales by decreasing returns.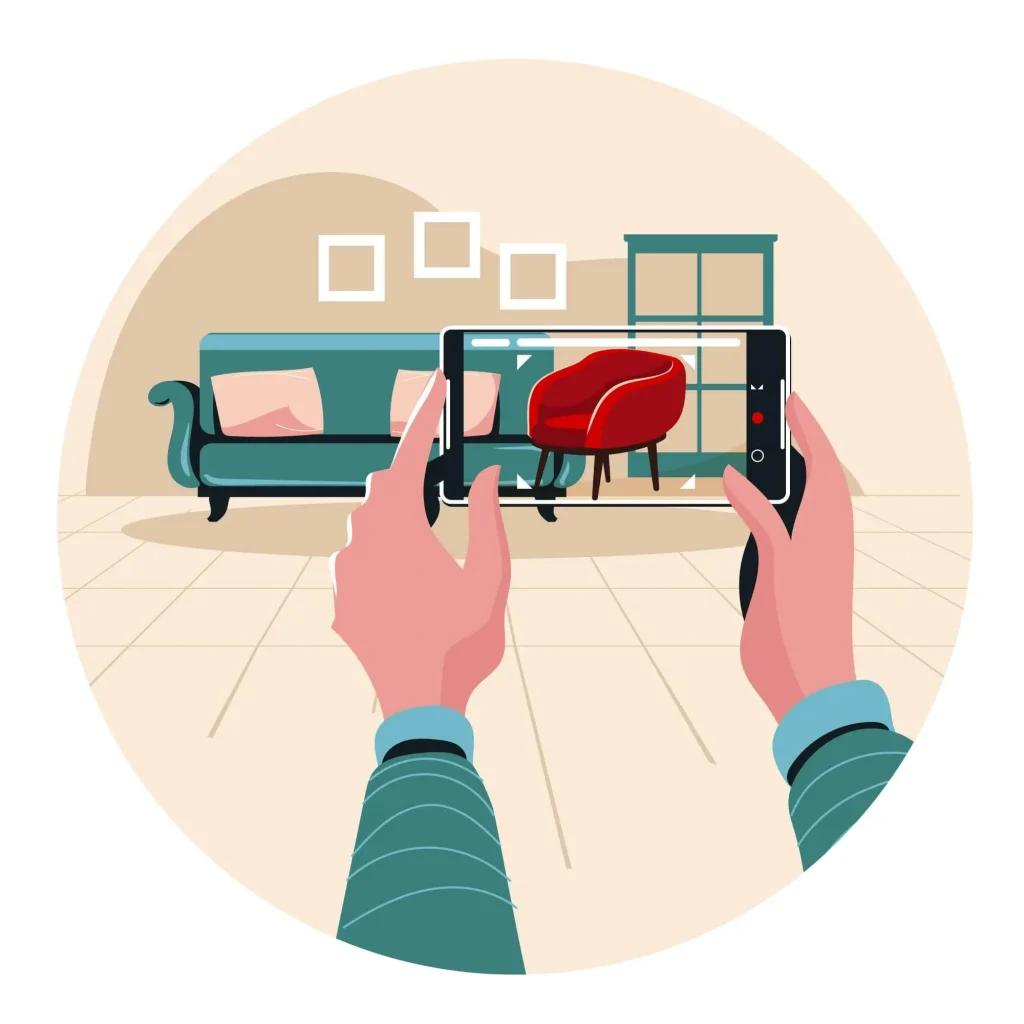 Augmented Reality: a solution for your e-commerce
When you implement AR in your e-commerce, you will see the benefits simultaneously. But let's see how this solution can solve the problems we discussed.
1. Visualizing the product size
AR can help your e-commerce by removing ambiguity regarding the product's appearance and size. Customers can observe a realistic representation of products in their location utilizing Augmented Reality.
The National Retail Federation found that 63% of consumers are inclined to buy a product if they can view it in their space. (Do you want more insights? Download the free paper here)
An example? IKEA Place.
Customers can use the AR app to visualize how furniture will fit and look in their room, which lowers the likelihood that they will need to return items for the wrong measures.
2. See all the product features
Customers may receive more information and interactive elements through AR that are not visible with static images. Thanks to interactiveness, customers can engage more with products.
For example?
With an animation, customers may virtually test the opening of a cabinet. This will help them to visualize how the product moves in their space, avoiding mistakes. And this will help you to reduce return rates.
3. Create a connection
AR can enhance customer experience and customer engagement. By providing customers with an interactive and engaging experience through AR, e-commerce businesses can build trust and brand loyalty. This will allow your brand to create a deeper connection with the consumers.
AR will help create a stronger relationship with the customer and your brand.
4. Give extra information
As we said before, Augmented Reality help to see the size and how a product fit. But you can build more trust by giving them more information.
For instance, Lowe's Vision. This software help reduce the overall return rates more accurately. Machine learning helps the users calculate the space in their room and place the product. As a result, this lowers the chance of returns for inaccurate fit.
How to implement AR to reduce return rates?
In conclusion, e-commerce companies face a significant issue in reducing returns, but Augmented Reality offers a solution. AR can reduce returns and not only. It will help you increase sales, decrease dropout rates, and improve customer experience.
This will help you to make your customer happier. Do you want to know how to implement AR in your e-commerce? Do you want to have more insights about AR? Download our free paper here.