Overview
In this article, we will see why e-commerce businesses struggle to attract and retain customers. So, increase sales.
To start, we will analyze the gap between e-commerce now and what they could do with new technology. How the newest one can revolutionize their business.
Then, we will provide well-researched examples and detailed insights to help you effectively consider the implementation of this new technology. In the end, we will discuss the potential benefits of implementing it and how these benefits will help you to increase your sales.
The gap of sales between e-commerce and offline store
Recently, the e-commerce industry has grown exponentially, and it will reach – according to market research – $4.9 trillion by 2025. However, despite this growth, e-commerce still misses what offline stores can offer to people.
We are talking about immersive and interactive experiences.
In fact, in a physical store, customers can see, touch, and try products. This helps them to make informed purchasing decisions.
Instead, online, static images and descriptions, make it hard for customers to picture the product in their space.
As a result, this problem causes poor customer engagement and lower sales. That's why most people still prefer to buy in a physical shop.
In fact, research demonstrates that e-commerce sales in the US count only for 11.9% of total retail sales, in 2019.
Also, we can see this difference when we compare the average order values between e-commerce and offline stores. We are talking respectively about $62.96 vs. $95.14, according to BigCommerce.
This survey proves that customers make larger purchases when they can experience the products!

So, if you have an e-commerce, you must find unique ways to provide immersive and interactive experiences to your customers. Experience that they can almost compare to the one offered in a physical store!
Thankfully, today, one way to give people a similar experience, is through advanced technologies such as Augmented Reality (AR).
Augmented Reality is a superpower! It gives us the possibility to see things that normally we wouldn't be able to see.
AR allows you to see the 3D virtual objects in your space through a smartphone. Or in the future via smart glasses.
It means that Augmented Reality can provide virtual product visualization, allowing customers to visualize your products in their own space. This will help them to make better and more informed purchasing decisions.
Adoption of AR technology in e-commerce to increase sales
Augmented Reality technology is a powerful solution for e-commerce owners looking to decrease the difference between online and offline stores. In fact, by implementing this technology you will give your customers a more immersive and interactive shopping experience, online.
AR will also increase customer experience, drive sales for your e-commerce, and improve your sustainability by reducing return rates.
Let's see some benefits of using AR for your own e-commerce.
Improve the customer experience
One of the first AR's benefits is that it gives customers a unique experience outside of any other. Augmented Reality offers the ability for your clients, to see the products in their environment and interact with them.
A Deloitte study shows that 72% of consumers who have used AR in retail said it improved their shopping experience.
But not only. Also, PwC found that 67% of consumers want to use AR to visualize products in their homes before purchase.
This necessity happens because the customers want to be sure of what they are buying and want to avoid returns.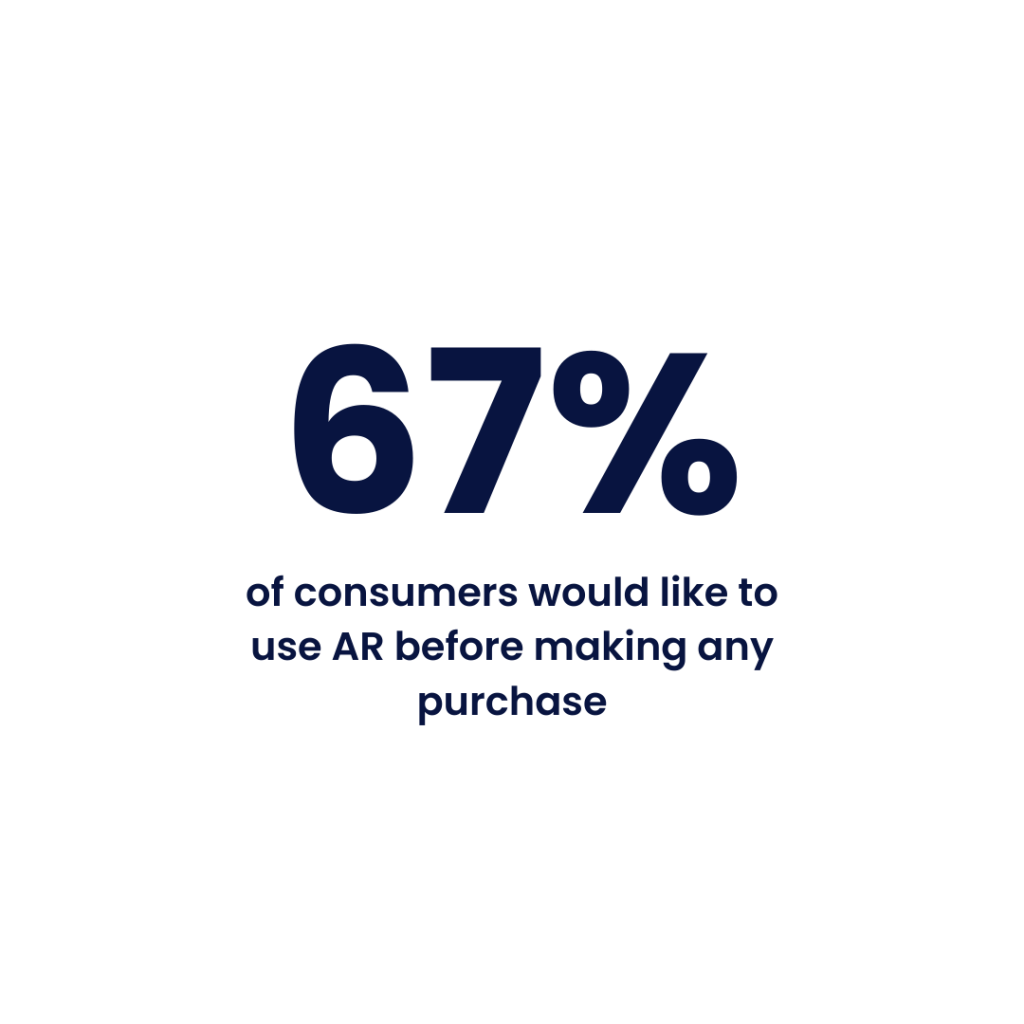 If you want to know more about how your customer experience drives your e-commerce growth, you can read this article.
Improve your sustainability and reduce return rates
The other two benefits of AR in your e-commerce are to increase your business sustainability and reduce the return rates.
Actually, these two are connected:
I explain why.
Augmented Reality provides customers with a more accurate representation of the product. This includes the right color, size, and measures, and the possibility to try the items in their space.
This technology will help you to reduce the number of customers receiving products that don't meet their expectations.
For example, Wayfair, a home furniture retailer, reported a 20% return reduction for products viewed through their AR feature.
As a result, of course, the reduction of the return means a more sustainable brand.
Improve customer engagement and loyalty
The last example of one of the Augmented Reality benefits is its ability to increase customer engagement and loyalty.
When people try your products virtually – see them in their environment – and interact with them, they have an engaging experience. By letting them have this engaging experience you also will increase your sales.
For example, research by Meta found that 52% of consumers are more
likely to purchase from a company that offers AR experiences.
Also the first impression matters!
According to Sitecore, 57% of Gen Z are willing to move to another retailer after only one poor shopping experience.
That's why AR also helps e-commerce improve brand loyalty!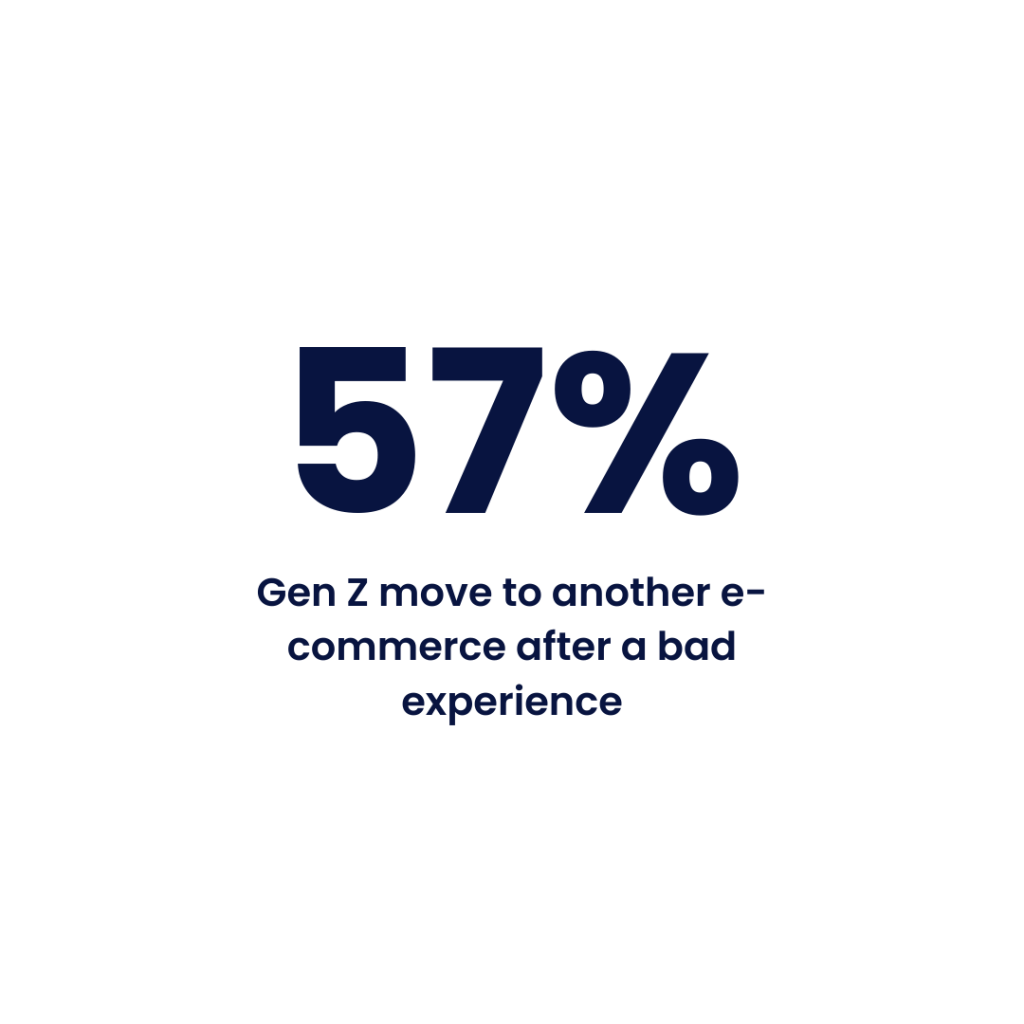 Examples of AR that increased sales in e-commerce
Now that we have seen the benefits of this technology let's look at how IKEA, Sephora, and Lowe's used AR.
IKEA
IKEA has created an app named IKEA Place. With the app, its customers can use their smartphone's camera to visualize how IKEA products would look in their homes. Before making a purchase.
As a result of this implementation, IKEA has seen a significant increase in customer engagement and sales. The company said that customers who used the AR feature in the app were 15% more likely to purchase.
Additionally, IKEA reported a decrease of 25% in return rate for products viewed through AR.
Sephora
Sephora, instead, used its AR app to make customers virtual try-on makeup before making a purchase.
The company declared that customers who used this feature were 20% more likely to make a purchase. Also, the brand, decreased the return rates by 15%.
Lowe's
Even Lowe's, a home improvement retailer, used Augmented Reality. Differently from IKEA, the Lowe's app allows clients to use their smartphones to design and visualize home projects.
Lowe's increased its sales by 25% more. Besides, the company has also reported a 20% reduction in returns for products viewed through the AR feature.
As you can see, these examples show that you can use Augmented Reality to increase your e-commerce experience and sales.
But, how implement Augmented Reality in your e-commerce?
How to implement AR in e-commerce and increase sales
Behalf of all these benefits, implementing Augmented Reality can seem hard.
But don't worry.
You can proceed with different methods of implementing AR.
Do it on your own
You can use pre-existing AR platforms, such as ARKit or ARCore, to create essential AR experiences. In this case, you have to acquire some skills, like coding, before proceeding.
Trust experts
It can help you create custom AR experiences for your e-commerce via Web Augmented Reality (WebAR) or an AR app.
Whatever approach you choose, it's crucial to understand how to implement and use AR to your favor.
So, if you want to increase your sales and survive in the following years, you should consider implementing AR.
We can help you take the first step and drive you in the right direction suitable to your e-commerce. The only thing to do is to book a free call here.