What is a constant problem for your e-commerce? We know it: High Dropout Rates. People constantly leaving the cart are recurring issues that cost you a lot of money. This is why you are here. You want to know how to reduce dropout rates.
So let's understand why customers leave their shopping carts empty and how you can reduce dropout rates.
Why Do You Have High Dropout Rates?
A Baymard Institute survey found that, on average, 69.57% of online shoppers abandon shopping carts. But why? This is because your e-commerce could suffer from different things. They can be bad website design, slow page loads, lack of consumer confidence, and poor user experience.
We want to help you by giving you some traditional solutions and one that can revolutionize your e-commerce.
Enhancing User Experience
Use Better Website Design: To lower dropout rates, website design is critical. A well-designed website with an easy-to-understand call-to-action, better navigation, and a mobile-friendly layout can greatly enhance user experience and reduce dropout rates.
Simplifying the Checkout Process: A complex process primarily contributes to high dropout rates. You can encourage customers to finish their purchases by minimizing the number of steps.
Performance and Speed: High dropout rates can be swiftly caused by a website that loads slowly. Making sure your website loads quickly.
Give Detail Product Information: According to a Nielsen Company study, providing customers with accurate product information can boost conversions by as much as 50%. Providing clear and detailed product information will help you to decrease dropouts and reduce return rates.
Builds your customer loyalty
Besides user experience, increasing consumer loyalty is important for reducing dropout rates. You can do it in different ways.
Promotion and Discount: promotions and discounts will help you make your customer buy again.
Enhance Customer Service: to enhance customer service and lower dropout rates, you should consider giving live chat assistance and reacting quickly to customer questions and concerns.
Personalizing the Shopping Experience: you can offer targeted product suggestions, customized email campaigns, and leverage customer data to tailor the shopping experience.
Use a Loyalty Program: implementing a loyalty program is a tried-and-true method for reducing dropout rates and promoting recurring purchases.
Listen to your Customer: use customer feedback to reduce dropout rates. By collecting feedback through surveys and reviews, you can gain valuable insights. This will help you to increase customer experience by recognizing areas for progress.
Considering these points, you and your e-commerce can comprehensively reduce dropout rates and increase sales. But you can do even more!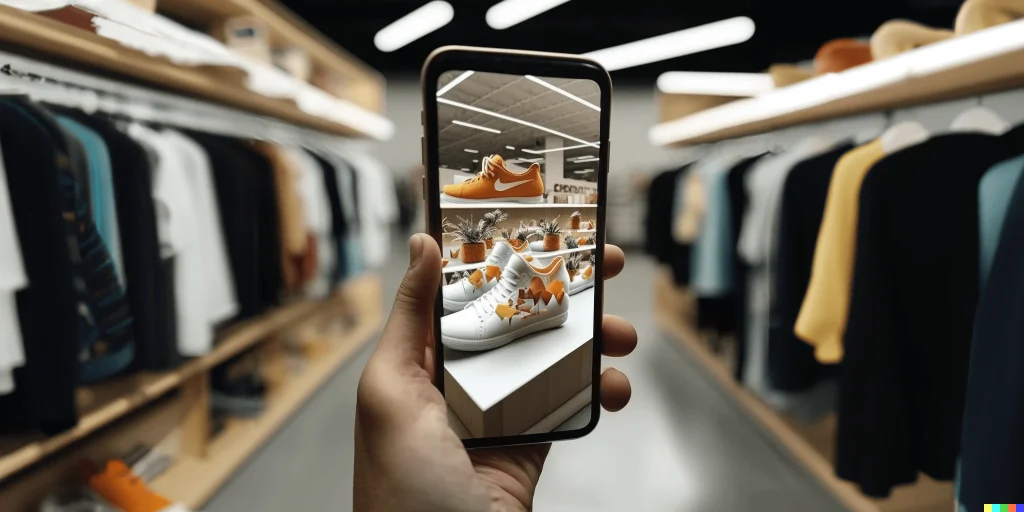 How You Can Use Augmented Reality (AR) to Decrease Dropout Rates
How can you have better results?
Reducing dropout rates in e-commerce is a challenge. But, by implementing AR, your e-commerce can have a boost. There are different ways to implement Augmented Reality. Before doing that, you need to understand Augmented Reality.
For that reason, you can learn more about Augmented Reality and its correlation with dropout rates through this free paper that you can download here. You will also get some insights and other advice to help you with your goal.