Overview
One of the big problems for e-commerce is the return rates. This not only has high costs but also makes brands less sustainable.
This is what we will talk about in this article. Let's try to understand how brands can be more sustainable and decrease their return rates.
We will suggest solutions that brands can use to improve these aspects. So, we will talk about causes, customer feedback and complaints, product data, and customer purchase history.
At the end of this article, we will show some solutions more and less traditional with different approaches.
The causes that make your e-commerce less sustainable
Today buying products is very easy, thanks to the increments of e-commerce. However, with this increased popularity comes a significant problem: more shipments.
More shipments cause more CO2 and make e-commerces less sustainable. This is a big problem especially when it comes to another factor: return.
A lot of people like to buy, try the products, and then return them because of several reasons.
In fact, as a study by Narvar says, an e-commerce average return rate for online purchases is up to 30%.
As a result, this causes a loss of revenue for e-commerce because of the costs of shipment and returns. Additionally, high return rates can negatively impact customer satisfaction and lead to a decrease in customers' second purchases.
But, before going forward, let's understand the causes of high return rates in e-commerce. So, let's see how to decrease returns and increase your e-commerce sustainability.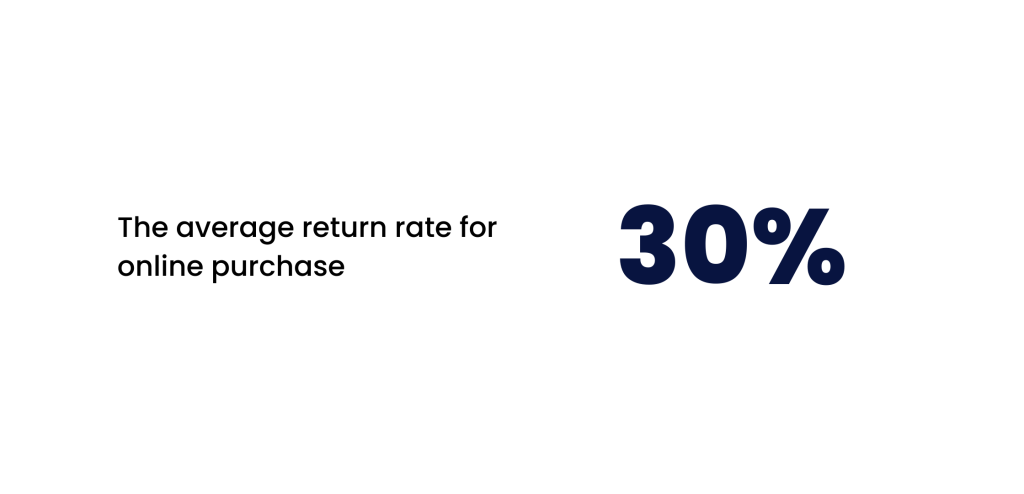 Before proceeding, we want to be sure that you understand that less return = more sustainability.
What are the causes that make e-commerce less sustainable?
Different problems can affect your e-commerce. So, understanding the causes of why they happen, can help you in:
decrease the return rates
improve your e-commerce sustainability
improve the customer experience
Let's see the causes, instead.
1) Products don't meet description and expectations
A study by Retail Dive proves this. In fact, 55% of customers who return items do so because the products don't meet the description or expectations. This reason is one of the top causes of high return rates.
This category includes:
inadequate product information (like description and size)
low-quality images
a lack of customer Q&A (FAQ)
a lack of reviews
E.g., a customer may purchase a desk online, but it find that the size of the desk is not like the one described. This leads to a return and a higher cost for your e-commerce.
2) Poor product quality
According to Retail Touchpoints, 28% of customers return items due to poor product quality.
For example, a customer who buys a leather sofa, after receiving it, finds that the leather is not quality. Guess what? Another return!
Also, it's worth noticing that e-commerce return rates are generally higher than in-store returns. Some data shows that the average return rate is 30% for online and 8-10% for in-store.
This is because customers can't see the item quality through the images. This may lead to the return of products that do not meet clients' expectations.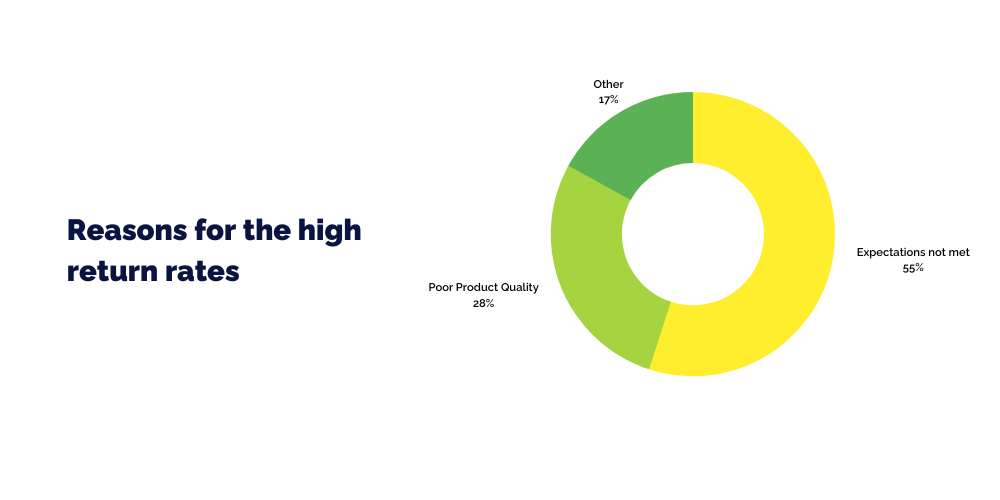 The importance of analyzing, studying, and understanding the causes
Analyzing why customers return your product is crucial here. Understanding their feedback and complaints is a critical step toward the solution.
In fact, by reviewing customer feedback, e-commerce can identify common issues that lead to returns.
That's why studying product data, e.g. size, color, and material, can provide useful insights to understand the causes of returns.
For example, by analyzing a product, e-commerce can identify if this specific one is being returned more frequently than others. This analysis can indicate a problem with the product's representation on the website.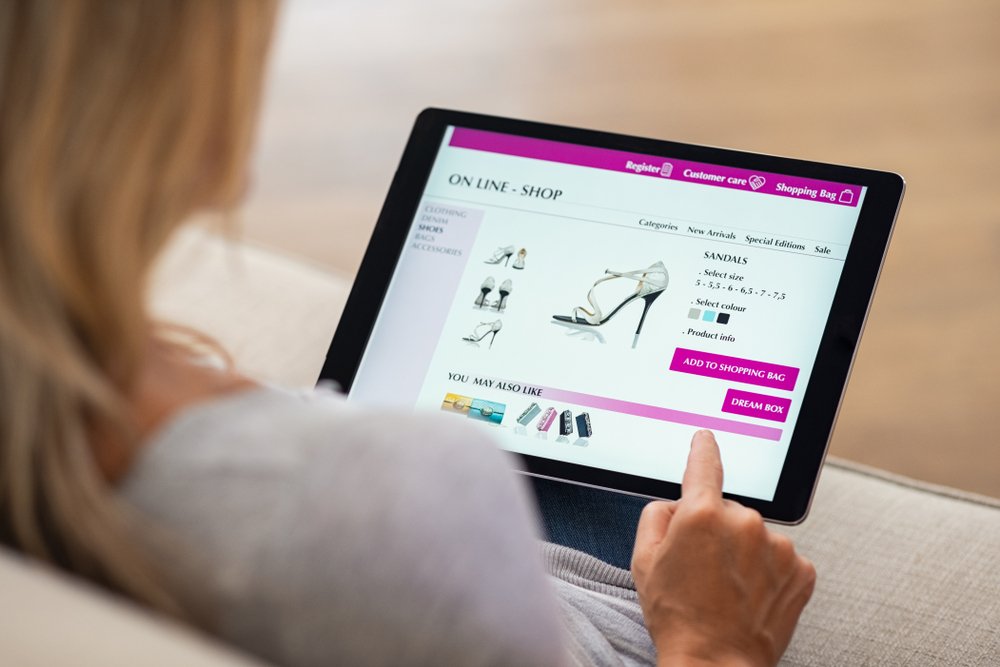 How e-commerce can be more sustainable?
The common solutions that you can implement
There are common solutions that you can start to implement to solve the problem of high return rates. Here are some of them:
1) Make detailed product information
According to Episerver, 91% of customers say that access to detailed product information is crucial when purchasing online. That's why you should improve your product representation by providing detailed information: size charts, materials, and care instructions.
2) Use high-quality product images
Also, you should insert high-quality images and videos to give customers a better idea of what they are purchasing. In fact, according to MDG Advertising, 67% of consumers say that image quality is "crucial" during a purchasing decision.
3) Improve the customer experience
To decrease return rates, and increase your sustainability, you can personalize the customer experience by understanding the customer's behavior. In this way, you can prevent returns.
To prove this point, a study by Epsilon says that personalization can increase revenue by up to 15%. Also, a study by Accenture found that personalization can increase customer loyalty by as much as 18%.
If you are interested more in increasing your customer experience you can read this article! Also, if you are interested in increasing your e-commerce sales, read here.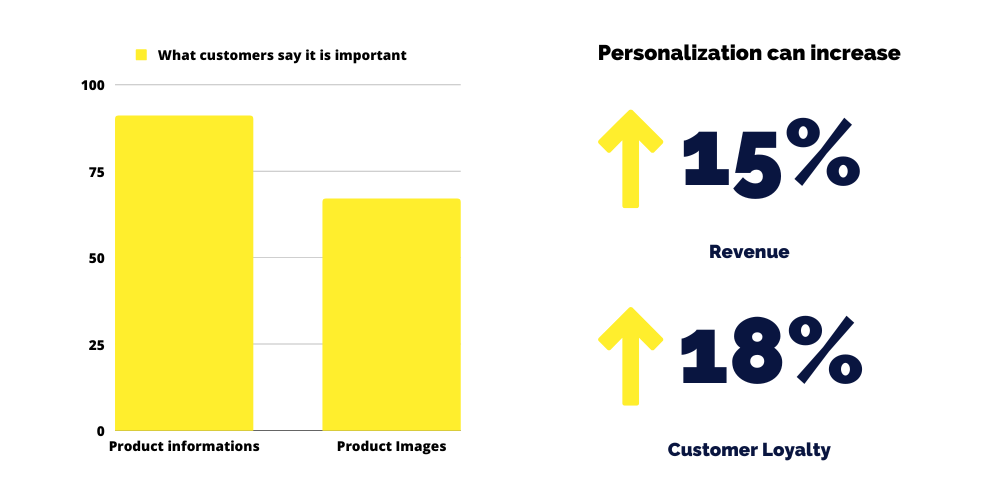 The cheat code to have a more sustainable e-commerce
You should apply those suggestions before moving on. But, there is a better and unique way to be more sustainable and reduce returns. We are talking about Augmented Reality (AR)!
Augmented Reality gives your customers a superpower! It allows your users to see the products in their space before any purchase.
AR technology can be a highly effective solution for your e-commerce. In fact, can help you to reduce return rates and gain sustainability by more than 37%.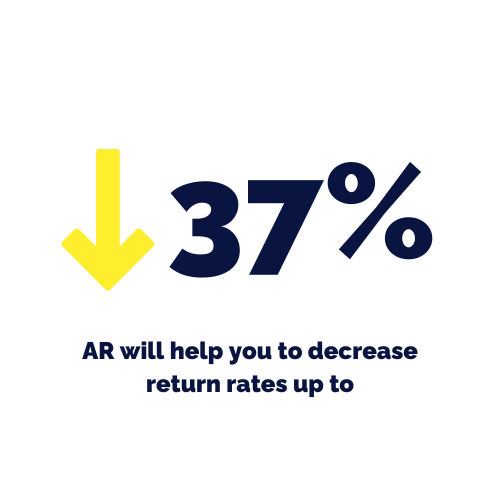 An example of an e-commerce company successfully utilizing AR is IKEA. IKEA thanks to its app, decreased of 25% the return rate of products viewed via Augmented Reality.
Increase your sustainability and decrease return now, with Augmented Reality
Augmented Reality is not just a trend, it's here to stay! More data confirm this, here are some of them:
A Snap Inc. report says that 60% of people in the USA will start to use AR. Also, 84% of the users online are interested in using Augmented Reality to see the 3D product before buying it.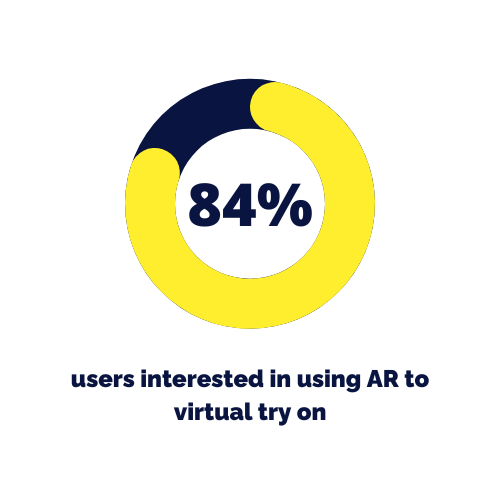 Likewise, Accenture found that customers who used AR were 2.4 times more likely to purchase an item. This shows that Augmented Reality can reduce returns and increase sales, for real.
In conclusion, as we saw, high return rates are a significant problem for e-commerce. Understanding the causes of return rates is the first step to solving this issue. Then we can start to adopt the different methods mentioned above to improve your e-commerce sustainability.
Also, Augmented Reality has a big impact on different areas of your e-commerce. That's why we showed you different studies to support that and encourage you to implement AR as soon as you can!